01.

Winners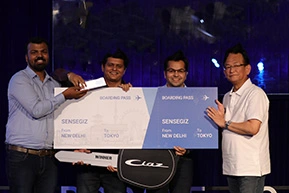 Sense Giz
Winner
SenseGiz was founded in 2013 by Abhishek Latthe, Dr. Kumar Rajesh, and Dr. Bharat Latthe. It makes enterprise and industrial IoT products for sensor-based condition monitoring, security and real time asset/people tracking applications using a combination of proprietary mesh connected hardware, cloud, analytics and apps.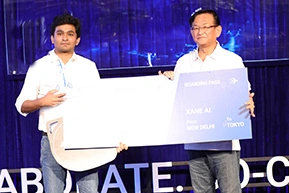 XANE
1st Runner up
Xane AI was founded in 2017 by an IIT-Delhi Alumni. By leveraging artificialintelligence, it aims to revolutionize the consumer driving experience. Their AI Car Assistant is all that a driver needs for diagnosing and troubleshooting issues, and for gaining familiarity with new features and road and safety regulations.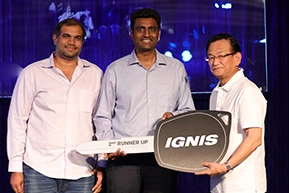 Eyedentify
2nd Runner up
Eyedentify provides smart Automotive IoT that enhance safety for drivers, passengers and the fleet. It works on DMS (Driver Monitoring Systems) which use cameras to continuously monitor the driver's face and eyes for signs of fatigue and distracted-driving. Once the system detects these conditions, it immediately alerts the driver to stay attentive while driving.
02.

Other Participants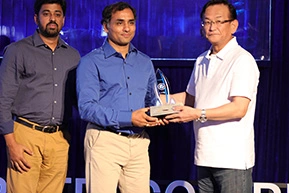 Enmovil

Enmovil was established in 2015 by Venkat Moganty, Nanda Kishore and Ravi Bulusu. The start-up is focused on delivering a complete logistic analytical platform. Enmovil Solutions analytics engines offer a consolidated end-to-end platform to transform the performance and utilisation of your field assets into analytics and integrate with your organisation's backend network like the ERP & CRM solutions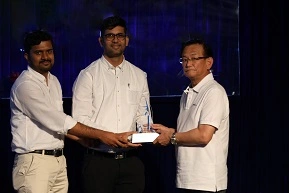 Docket Run

DocketRun helps medium and large scale organizations to use Artificial Intelligence as a Catalyst for their Growth by providing plug and play solution. We build and deploy next-generation AI solutions on Multiple Platforms like Web, Application, and Hardware Devices